4-night Pacific Coastal Cruise
Cruise Line:
Holland America Line
Ship:
Eurodam
Destination:
Vancouver/San Diego
Departure Date:
10/8/2023
Length:
4
Offer ID:
1477207
READY TO PLAN YOUR SHORE EXCURSIONS?
To view our top picks, please click here.
Itinerary
Destination
Arrival
Departure
Vancouver
10/8/2023
10/8/2023 5:00:00 PM
Vancouver is a thriving metropolis surrounded by natural beauty. With parks, beaches, gardens, museums, art galleries and the second-largest Chinatown in North America, Vancouver lives up to its promise of offering something for everyone. With modern buildings set against green, rolling hillsides, this city is breathtaking; no location offers a more spectacular view than Stanley Park - with a zoo, aquarium, totem poles and honking geese. A short walk from the park leads to Robson Street, which offers the town's best window-shopping. Stores with European flavor share the avenue with delicatessens and tea rooms ready to serve. As architectural heart of the city, Robson Square features a central plaza with a food fair and an old provincial courthouse, which now houses Vancouver Art Gallery. Be sure to stop at 8 Pender St. - "the narrowest building in the world." Other points of interest include the Museum of Anthropology; Japanese-style Nitobe Memorial Garden; and VanDusen Botanical Garden. Capilano Canyon is site of the world's longest and highest suspension footbridge.
San Diego
10/12/2023 9:00:00 AM
10/12/2023
San Diego is a city offering a little for everyone. Tons of beaches line San Diego's coastline, ranging from the surfer's beach to the family beach to the private romantic beaches hidden away from the crowds. Attractions like Sea World and the world famous San Diego Zoo are a big reason San Diego is a great family destination. And for those who are just here to get away for the weekend and have a good time, San Diego offers an unbelievable nightlife with outrageous nightclubs, live concerts, professional sports, theatrical performances and much more.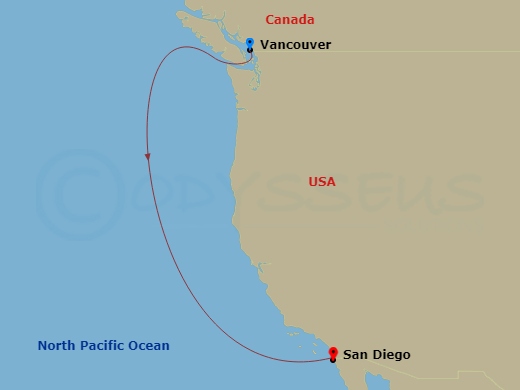 Rates are cruise only, per person, based on double occupancy. Taxes, Fees and Port Expenses of $140 additional for all guests. Fuel surcharges may apply. Please ask your travel counselor for details. Rates are subject to availability and may change without notice. Restrictions may apply.
Departure Date:
10/8/2023
Cruise Inclusions:
4-night Cruise
Meals
Entertainment
Available Addons:
Pre or post cruise hotel stay.
Optional roundtrip airfare.
Remarks:
Prices are per person, based on double occupancy. Airfare, transfers, Taxes, Fees and Port Expenses additional.
All fares are quoted in US Dollars.
All prices per person and in USD unless otherwise stated.
Offer ID:
1477207

Reference this number when contacting our agency so we may better serve you. Also keeping this number handy will allow you to locate this document again quickly.
Information and pricing is subject to change without notice. While we do our very best to ensure that information and pricing appearing in this website is complete and accurate, we cannot be responsible for incomplete and inaccurate representations, which may or may not be under our control. In the event of a pricing error, misrepresentation or omission, we reserve the right to adjust the pricing or make any other corrections.
Company Info
Cruise Vacation Outlet
5575 S Semoran Blvd Suite #4
Orlando, FL 32822
(407) 275-2244
(800) 797-4635