2-night Australia Seacation Cruise
Cruise Line:
Princess Cruises®
Ship:
Diamond Princess®
Destination:
Brisbane/Sydney
Departure Date:
9/24/2024
Length:
2
Offer ID:
1502571
READY TO PLAN YOUR SHORE EXCURSIONS?
To view our top picks, please click here.
Itinerary
Destination
Arrival
Departure
Brisbane
9/24/2024
9/24/2024 5:00:00 PM
Brisbane

Laze in the lush riverside gardens of South Bank, then browse the markets and swim in its lagoon. Bike ride in the City Botanic Gardens and abseil the cliffs of Kangaroo Point. Glide down the river on a majestic paddle steamer or take a high-speed ferry to vibrant inner-city villages like Bulimba and New Farm. When culture cravings hit, wander the art galleries and museums, watch a performance by the Queensland Ballet, Opera or Orchestra perform or see cutting-edge theatre in the Powerhouse. In the boating hub of nearby Moreton Bay and Islands, you can swim, sea kayak, snorkel coral reefs, toboggan down the world's tallest sand dune, hire a sail boat or tussle with a marlin.
Five things you should do in Brisbane:
1. Glide down the river and relax in the gardens
Bike ride beneath macadamia trees and mangroves in the City Botanic Gardens or roller blade over a floating walkway. Then cruise down the river in a wooden paddle steamer, spotting pelicans and eastern water dragons. Laze or picnic under the palms on South Bank's 17 hectares of riverside gardens. Here you can swim from the lagoon and pools of Paul Breka Beach, browse the markets, visit a summer open-air cinema and dine alfresco in the sun. Follow an Aboriginal art trail through the bushland in Mount Coot-Tha Reserve, also the place to spot native wildlife and take in panoramic city views. At the foot of the mountain you can wander the tropical zone, rainforests and Japanese gardens of the Brisbane Botanic Gardens. Cuddle up to koalas and meet possums, kangaroos, wombats, emus and lyrebirds in the Lone Pine Koala Sanctuary, just a short bus drive from the city centre.
2. Soak up culture and architecture

See the skeleton of a Queensland dinosaur in the Queensland Museum and the work of famous Australian artists in the Queensland Art Gallery. Both sit in the sprawling Queensland Cultural Centre on South Bank. At night, visit the dress circle of the Queensland Performing Arts Centre or catch a show by the Queensland Ballet, Opera or Orchestra. Watch plays, browse art galleries and dine out in the transformed industrial space of the Powerhouse, which towers over the wide, brown river like a post-apocalyptic vision. Brisbane also houses many cultural institutions in fine old civic buildings, such as Customs House, the Treasury Building, Brisbane City Hall, the Commissariat Store and the Old Mill. In Brisbane, sandstone cathedrals and classic Queenslander houses on stilts blend seamlessly with steel and glass skyscrapers.
3. Hit the water and islands of Moreton Bay

Sea kayak from North Stradboke Island or Moreton Island or go deep-sea fishing from Scarborough, Bribie Island, Manly or Raby Bay. Jet ski and windsurf on the Redcliffe Peninsula or kite-surf on Wellington Point. Slide down the world's tallest sand dunes on a toboggan or sand buggy on Moreton Island. Scuba dive with colourful fish, crustaceans, corals and turtles at Cowan's Artificial Reef, Flinders Reef and in the Tangalooma shipwrecks. Watch out for humpback whales between July and October and dolphins and dugongs all year round. Meet colonies of koalas in Victoria Point and hundreds of wading birds in the Egret Colony and Boondall Wetlands. Aqua-bike from Coochiemudlo Island then mountain bike the BMX tracks at Cleveland and Deception Bay. Four wheel drive Moreton, North Stradbroke and Bribie Islands. See Queensland's oldest banyan tree in Cleveland Point, Aboriginal scar trees and middens in the Redlands and Myora Springs and a notorious old convict settlement on St Helena Island.
4. Eat, drink and enjoy in the urban villages

Listen to live music, shop along the lively outdoor mall and feast on Chinatown dumplings in Fortitude Valley, Brisbane's cultural core. Next door in New Farm, you can people watch from trendy cafes, buy gourmet delights from the famous deli and picnic in the riverside parklands. Dine in warehouse converted restaurants and explore the transformed industrial space of the Powerhouse, now a buzzing centre for the live arts. Take the citycat to Bulimba on the river. Then visit pretty Paddington and hop between the popular bars, cafes and restaurants of Latrobe and Given Terraces. Then take in the traditional Queenslander homes which dot the hills and wide-lined streets. Cross the river for the funky restaurants and art house theatres of the West End, the shops of Stones Corner and the brewery of Queensland's most famous beer.
5. Embrace adventure

Abseil or rock climb the Kangaroo Point Cliffs at sunrise or at night when the city is dancing with lights. Climb the Story Bridge for spectacular 360 degree views. Free fall on a tandem sky dive or float over the city in a hot air balloon. You can even glide like a bird over the Sunshine Coast on a motor glider. Travel down the Brisbane River on a golden gondola, historic paddle steamer or wildlife cruise. Or take a luxury whale watching cruise from the Redcliffe Peninsula, just 30 minutes north of Brisbane. Do an eco cruise past Bribie Island and the Glasshouse Mountains to Pumicestone Passage Marine Park. Bushwalk, swim, four wheel drive, spot wildlife and explore glow worm caves on an eco-tour to Springbrook and Lamington National Parks. See the city sights on the back of a Harley Davidson or go horseriding in the sprawling bush on the edge of the city.
Sydney
9/26/2024 6:00:00 AM
9/26/2024
Sydney

Soak up Sydney's gorgeous harbour, seductive outdoor lifestyle and great natural beauty. Kayak under the Sydney Harbour Bridge or wave at the Opera House as you ride a ferry across the harbour to Manly. Learn to surf at Bondi Beach or swim in the calm waters of Coogee. Lose yourself in the cobblestone cul-de-sacs of The Rocks or in the markets, boutiques, cafes and pubs of Paddington. As well as a world-famous harbour and more than 70 sparkling beaches, Sydney offers fabulous food, festivals and 24-7 fun.
Five Sydney Experiences Not to Miss:
1. Explore the historic Rocks

Discover Sydney's colorful convict history in the harbourside quarter where it all began. Just five minutes from Circular Quay, you can hear stories of hangings and hauntings on a ghost tour, wander the weekend markets or climb the span of the Harbour Bridge. In amongst the maze of sandstone lanes and courtyards, you'll find historic workman's cottages and elegant terraces, art galleries, hotels with harbour views and Sydney's oldest pubs. See people spill out of them onto a party on the cobblestone streets when The Rocks celebrates Australia Day on January 26th, Anzac Day on April 25th and New Years Eve.
2. Hit the world-famous harbour

Sail past the Opera House on a chartered yacht or paddle from Rose Bay in a kayak. Take a scenic cruise from Circular Quay or Darling Harbour, past waterfront mansions, national parks and Shark, Clark, Rodd and Goat islands. Tour historic Fort Denison or learn about the life of Sydney's first inhabitants, the Gadigal people, on an Aboriginal cultural cruise. Watch the harbour glitter from the green parklands of the Royal Botanic Gardens, which curves around its edge. Or take in the view from a waterfront restaurant in Mosman, on the northern side of the bridge, or Watsons Bay at South Head. Walk from Rose Bay to Vaucluse or Cremorne Point to Mosman Bay, on just some of the 16 spectacular routes hugging the harbour foreshore.
3. Visit Manly on the ferry

Travel across Sydney Harbour on a ferry to Manly, which sits between beaches of ocean surf and tranquil inner harbour. Wander through native bushland on the scenic Manly to Spit Bridge walk, learn to scuba-dive at Cabbage Tree Bay or ride a bike to Fairy Bower. Picnic at Shelly Beach on the ocean and sail or kayak from Manly Wharf round the harbour. Hire a scooter and do a round trip of northern beaches such as Narrabeen and Palm Beach. Explore the shops, bars and cafes along the bustling pine tree-lined Corso and dine at world-class restaurants with water views.
4. Enjoy café culture and top shopping in Paddington

Meander through the Saturday markets, browse fashion boutiques on bustling Oxford Street or discover the antique shops and art galleries in upmarket Woollahra. Visit the 1840s Victoria Barracks Army base, open to the public once a week, and see restored Victorian terraces on wide, leafy streets. Ride or roller-blade in huge Centennial Park, then stop for coffee and lunch on Oxford St or in the mini-village of Five Ways. Catch a movie at an art-house cinema or leaf through a novel at midnight in one of the huge bookstores. Crawl between the lively, historic pubs. They hum even more after a game at the nearby stadium or a race day, when girls and guys arrive in their crumpled trackside finery.
5. Walk from Bondi to Coogee

Take in breathtaking views of the Pacific Ocean as you walk the winding, sea-sculpted sandstone cliffs between Bondi and Coogee. Swim in the famous Bondi Icebergs rock pool or just watch the swimmers with a sunset cocktail from the restaurant above. See wild waves in Tamarama, nicknamed Glamarama for the beautiful people who lie on its golden sand. From mid-October to November, the stretch from here to Bondi is transformed into an outdoor gallery for the Sculptures by the Sea exhibition. You can surf, picnic on the grass or stop for a coffee at family-friendly Bronte. Or swim, snorkel or scuba dive in Clovelly and tranquil Gordon's Bay. See the graves of poets Henry Lawson, Dorothea Mackellar and aviator Lawrence Hargrave in Waverley Cemetery, on the edge of the cliffs. Finish your tour in the scenic, backpacker haven of Coogee.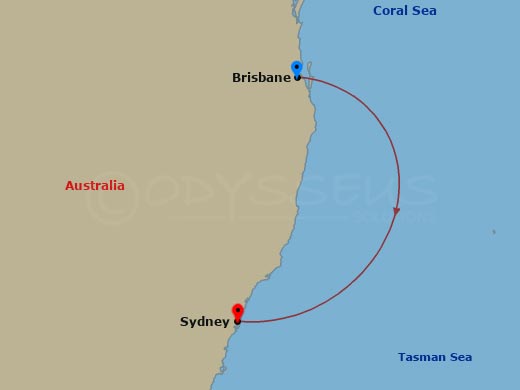 Rates are cruise only, per person, based on double occupancy. Taxes, Fees and Port Expenses of $60, transfers, and airfare (unless otherwise stated) additional for all guests. Rates are subject to availability and may change without notice. Restrictions may apply.
Departure Date:
9/24/2024
Cruise Inclusions:
2-night Cruise
Meals
Entertainment
Available Addons:
Pre or post cruise hotel stay.
Optional roundtrip airfare.
Optional shore excursions.
Remarks:
Prices are per person, Prices are per person, based on double occupancy. Airfare, transfers, Taxes, Fees and Port Expenses additional.
See applicable Princess® brochure for terms, conditions and definitions that will apply to your

All prices per person and in USD unless otherwise stated.
Offer ID:
1502571

Reference this number when contacting our agency so we may better serve you. Also keeping this number handy will allow you to locate this document again quickly.
Information and pricing is subject to change without notice. While we do our very best to ensure that information and pricing appearing in this website is complete and accurate, we cannot be responsible for incomplete and inaccurate representations, which may or may not be under our control. In the event of a pricing error, misrepresentation or omission, we reserve the right to adjust the pricing or make any other corrections.
Company Info
Cruise Vacation Outlet
5575 S Semoran Blvd Suite #4
Orlando, FL 32822
(407) 275-2244
(800) 797-4635